Homes for sale in Allen Ranch, Gilbert, Arizona
Allen Ranch Real Estate Listings
November 29, 2023
About Allen Ranch in Gilbert, Arizona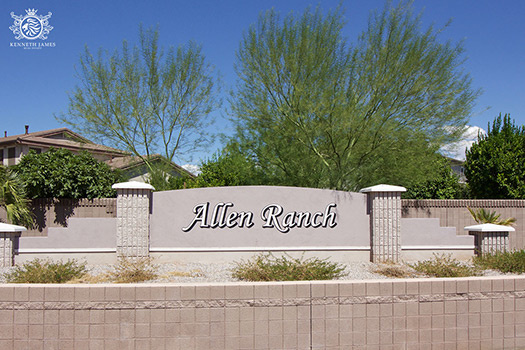 Allen Ranch is among one of the many options for when looking at homes for sale in Gilbert. Richmond American, Engle Homes, VIP Homes, and Centex Homes built this 334 single family homes in 2000. Due to the collaboration of the multiple builders, Allen Ranch is filled with unique homes which separate from other subdivisions. The 4 builders each had their own set of floor plans they designed for the area. This idea of different builders working in the same area, gives the community homes their own defining qualities, far from the "cookie cutter" style.
Allen Ranch is made up of lots that are over 10,000 square feet setting it apart from many other Gilbert subdivisions, and these larger lots give residents room to play! Most of the homes in Allen Ranch range from about 2,000-4,000 square feet and may include their own private pool. Allen Ranch Estates is a great combination of living space, versatility, comfort, and privacy.
If golfing is your game than Gilbert is your area. Just within a couple mile radius, Allen Ranch is 5 golf courses, these include Kokopelli Golf Course, Greenfield Lakes Golf Course, Trilogy Golf Course, Western Skies Golf Course, and a private course offered by the Seville Golf & Country Club. If you don't have time for a full 18 holes, Top Golf has built one of their world-class entertainment driving ranges in the Gilbert area and Allen Ranch is just a few minutes away! Allen Ranch is also conveniently located by 2 state parks where residents can hike, bike and even horseback ride. Of course, Allen Ranch has its own community parks which are family-friendly. Some of these parks near Allen Ranch include Cosmo Dog, Water Tower, Freestone, and Elliot District Park. Definitely, make the time for these parks, they are their own little treasures within the Gilbert neighborhood.
Allen Ranch sits on the corner of Gilbert and Chandler, just North of the 202 San Tan freeway. It is located within the Gilbert Unified District. This top ranking district in the nation is Rated A for its Quartz Hill Elementary, South Valley Jr. High School, and Campo Verde High School. The shopping here provided by Crossroads Towne Center offers a variety of boutique shopping, relaxation, fine dining, and movie theaters. Then there is also the San Tan Village if you are looking for supplementary retail and dining options.
Please contact us at Kenneth James Realty to let us know if you are buying are selling a home. We are Chandler and Gilbert experts. Our professional and personable agents will help you navigate Allen Ranch and other Gilbert communities. We look forward to working with you soon!
Similar Gilbert Communities: