About Kenneth James Realty
Helping People Live Better
Kenneth James Realty is a real estate brokerage - but we are so much more than that. We put people and the planet at the center of everything we do. We believe in doing the right thing every single time, even if it doesn't make the most sense financially. We are here to serve.
People

People are at the very center of our business model. We serve the public by helping to educate people on the best way to build wealth through real estate and making the transactions completely transparent. We serve our agents by providing relentless training and giving them the tools and education to enable them to educate and serve our clients.
Our purpose is to help people live better, and it's evident in everything we do. We are committed to helping every single person live better. Meet the Zamudio-Palazuelos family:
Jesus Daniel has lived in Puerto Penasco all of this life. He graduated from High School and works as a waiter in a local restaurant. Mitzy was born in Mexicali, but moved to Penasco with her family when she was just eight years old.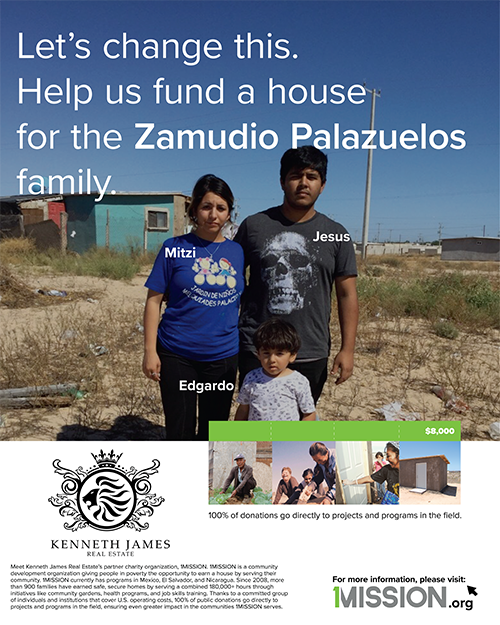 Daniel and Mitzy have been together for three years and are raising Mitzy's son from her first marriage, four year old Edgerdo. Mitzy makes and sells empanadas to help supplement the family's income of about $65 per week.
Currently, the family is living with Daniel's grandmother. The conditions are crowded and offer little privacy for the family. They have been paying for their land lot for the past two years, but haven't been able to afford to build a home on their own. Together they are barely able to earn enough to cover the family's expenses and basic needs. A house from 1Mission would give Jesus and Mitzy a place of their own where they can create a secure and stable future for their family.
The Planet

We plan on being around for a very long time, and we want to make sure that we all live a little better. A big part of that is taking care of the planet. We are fully committed to being carbon neutral or carbon negative, meaning we take more Carbon out of the atmosphere than we put in.
Our office is carbon negative, and our agents are educated on climate change and our personal impact on the environment. We are a paperless office, and we recycle any incoming paper.
We have offset 15 Metric Tons of CO2 emmissions from the atmosphere year to date in 2020 which is 100% of our office carbon emmissions, with a goal of 100 Metric Tons in 2020.